Entrance counseling sessions (which include an explanation of teaching contents and method), free trial lessons, lesson observations
Now accepting reservations for your visit !
To make and confirm your reservation for your visit, please contact us by telephone, not through the Internet. (after 2:00 p.m., except on Sundays and national holidays)
Cautionary Statement
NCC is dedicated to thorough instruction and caring attention to each student, to guarantee "short-term goal-achievement" and operates as a rigorous educational institution.
We expect you to understand that NCC accepts applications only from "serious students."
In order to ensure quality education, NCC recruits students under a limited-enrollment policy, and there is always a rush of applicants for the limited enrollment from all parts of Japan all year.
Therefore, you sometimes have to wait for enrollment for many months.
If you are eager to improve your English, please make a reservation by telephone to attend an entrance counseling session as soon as possible.
Under the "education-first policy," NCC has no sales staff and instructors themselves give an explanation of teaching contents and method, and advice on enrollment. Please don't worry, because they never urge you to enter NCC.
Incidentally, if you are a minor or student (a college student, a junior college student, or a vocational school student), before you make a reservation for your visit (to take an entrance counseling session, and a free trial lesson), be sure to talk with your parents to get their consent, and create the conditions necessary to attend NCC.
Also, high school students are required to be accompanied by their parents on their first visit.
We expect you to understand that, under the "education-first policy," we attach importance to your social position.
TEL 03-5330-9331
YS Daiichi Bld.15-4, Nishi-Shinjuku 7-chome, Shinjuku-ku, Tokyo, 160-0023, Japan

NCC makes its best efforts to protect personal information.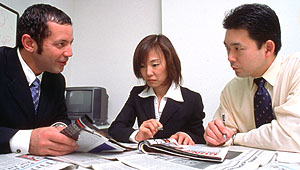 From "a daily conversation mastery course for beginners" to "various specialist-level achievement courses for advanced learners".
We definitely promise to bring students' ability up to their targeted level in six months after entrance, and provide uncompromising dedicated teaching.
Students can take the same course again for free, if they are not satisfied with what they have learned as a result of taking the course.
To make and confirm your reservation for your visit to our entrance counseling sessions (which include an explanation of teaching contents and method), and free trial lessons, please contact us by telephone, not through the Internet.
For other inquiries, please call us directly at 03-5330-9331. (after 2:00 p.m., except on Sundays and national holidays)
NCC Foreign Language Institute / YS Daiichi Bld. 15-4, Nishi-Shinjuku 7-chome, Shinjuku-ku, Tokyo, 160-0023, Japan