Under the "education-first policy", we offer students extra-curricular instruction, if necessary.

Free-Conversation - "free conversation" classes with native English teachers
Make up - individual supplementary lessons for as long as it takes, to students who missed their regular class, or students who have failed to make satisfactory progress by attending their regular class
Extra-Lessons - accepting any questions about English at any time
Consultation - general counseling on studying abroad and how to learn English
Facilities - free access to study rooms and English learning materials
Flexibility - extra-curricular instruction according to the academic and professional needs of each student
Communication - a lot of opportunities to promote mutual friendship among students or between students and teachers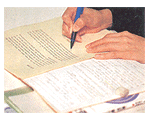 "Individual extra-curricular instruction"according to individual needs.
At NCC, for all levels (from beginners to highly advanced levels), we prepare a "six-month complete goal-achievement curriculum" on which regular lessons are given, but please don't hesitate to tell us if you need extracurricular instruction to meet your specific needs. After thorough counseling, we establish a special curriculum, adding individual extra teaching to regular lessons. (for free)
This individual extra-curricular instruction can not only help students with their English learning directly connected with their job, but also meet a wide range of their needs, such as academic studies (at college or graduate college), study-abroad preparations, career preparations, and various exam preparations.

Examples of "individual extra-curricular instruction" (for free).
The following are only a very few examples. In addition to these, we can meet various kinds of needs. If you want to know more details, please contact us.
"Reading"and "writing"directly connected with your job.
Whenever students bring documents in English they use for work, their teachers give special reading instruction, using them as teaching materials. For the writing of reports, e-mails, business letters, various kinds of business documents, and academic papers, teachers offer instruction supplementary to students' self-study of writing directly connected with their job, as well as correcting any grammatical mistakes.
Corrections made by native English teachers sometimes brings about some problems. One of them is that some students don't understand the reasons for the corrected mistakes. Therefore, at NCC, Japanese teachers give additional explanations of grammar and usage about the corrections made by native English teachers, which enables students to study further.
Conversational English directly connected with your job.
NCC offers supplementary instruction of various kinds of conversational English, from the kind of conversational English that shop assistants need, to conversational English in highly specialized fields.
Students at NCC come from a broad range of fields, for example, international business, technology, medical care, research and development, politics, economics, and law. Regular lessons based on the "six-month goal achievement curriculum" enable even beginners to develop the ability applied to conversational English in specialized fields.
However, for students who have no time to learn English steadily from the basics and need to communicate in English in specialized fields for the present, we try to do anything necessary, even in a temporary way.
For example, suppose that you work for a foreign-affiliated firm. You have to make a presentation in English in one month, but your English proficiency isn't good enough to do so.
First, you carefully write a script in English for the presentation and expected questions and answers, with the help of your teacher. Second, you memorize the script thoroughly.
Then, you rehearse the presentation to your teacher. For questions and answers, you are taught how to manage to deal with an unexpected situation.
Based on reflection of the rehearsal, you rewrite the script with the assistance of your teacher, memorize the new script, and rehearse again.
The same instruction is given in the case where the company you work for will hold a meeting and/or party for its main business acquaintances from overseas in one month, and you have been appointed as an in-house interpreter. Like the above-mentioned example, you write a script in English for expected questions and answers with the aid of your teacher, and rehearse several times.
Also, in preparation for a job interview in English, we offer the same kind of instruction.
But, these are only temporary measures. It is essential to learn how to communicate fluently in English, not using scripts.
After you have managed to get through the difficult situation in a temporary way, you should get down to developing your skills from the basics, according to the "six-month goal achievement curriculum". Naturally, if you want, we are committed to helping you to reach various 'specialists' levels, such as interpretation and translation.
English teachers.
There are a lot of English teachers at junior high schools, high schools, cram schools, and 'yobikos' who are enrolled in NCC.
They have a very high opinion of lessons at NCC, saying "they are useful for the improvement not only of my own English ability, but also of my English teaching skills."
Some of the teachers have great difficulty teaching high school students high-level English composition. They say they can teach them how to write English sentences by following patterns of sentence structures, but find it very difficult to teach them how to construct English sentences to express themselves, because they themselves have no confidence in their ability to do so. They get satisfactory results from NCC's lessons.
Extra-curricular instruction directly connected with your studies in high school, college, and graduate school.
We offer extra-curricular instruction supplementary to studies at high school, college, and graduate school according to your requests. High school students with college entrance examinations coming up need to make special preparations for them. Please let us know.
Of course, NCC's regular curriculum covers preparations for college entrance examinations, but, considering that some English examinations include useless expressions and usages, we can't ignore specialized instruction for them. We offer intensive extra-curricular instruction supplementary to self-study for college entrance examinations.
Our extra-curricular instruction for regular exams in high school and college also has a good reputation.
In addition, we offer effective specialized instruction to students who are to take graduate school entrance exams.
NCC's regular curriculum enables you to develop the ability needed to succeed in graduate school entrance exams, but, since they have too many questions for reading comprehension and English-Japanese translation, specialized preparations have to be made, too. Those who need supplementary lessons for graduate school entrance exams, please let us know.
Preparations for studying abroad.
Don't take studying overseas lightly; or you certainly won't succeed. Those who have passed the "language formation period" should study English properly in Japan, and don't have to study abroad only to learn English and conversational English.
However, if you have any definite purpose other than to learn English through experience, it is worthwhile to go abroad to study English at a language school or to enjoy a working holiday, as well as to study at a college or graduate school. NCC supports such meaningful overseas study.
Studying NCC's regular curriculum is the best way to develop the English ability needed to study abroad.
In addition to this, we give all necessary extra-curricular lessons, including preparations for TOEFL and IELTS, the key to overseas study, and correction of essays and academic papers.
A team of teachers who have a wealth of overseas experience give you advice on the ABC's of studying abroad, and answer any questions such as which college to go to, and how to submit an application.
Preparations for various English proficiency tests.
In order to succeed in various English proficiency tests, you should put your effort into improving your ability, not mere hasty preparations.
NCC's regular curriculum provides successful training focused on the development of students' ability, not boring preparations for exams. It covers preparations for various English proficiency tests, for example, the above-mentioned TOEFL and IELTS, TOEIC, STEP (Society for testing English proficiency), Cambridge Exams, UNATE (the UN association's Test of English).
However, if you need any extra-curricular lessons specialized in preparing for a specific exam, please let us know. After thorough counseling, we consider your learning program according to your purpose or level to design your personalized curriculum.