NCC's dedicated education has often been reported in newspapers, magazines, television programs, and other media.

This is an article from 'EXECUTIVE'.
Up-close coverage of a dedicated English language school, where evening classes last until students achieve the lesson goal, and some students almost miss their last train home.
Note: This text is based on the coverage of an intermediate class. NCC offers 21 levels of instruction from 'beginners' to 'specialists' levels. Both complete beginners who have no confidence in English and advanced learners who aim to become a professional can learn English without anxiety at NCC.
NCC is an English language school that puts up a quite unique catch-phrase, "Only serious students are welcome"
Looking for enthusiastic students under the slogan, "thorough instruction with caring and individual attention, after-class lessons working towards complete goal-achievement," NCC provides students with dedicated teachers.
Complete beginners don't have to take an entrance examination, but are tested on how serious they are about studying English at their entrance interview.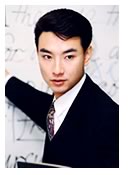 NAGATA Hisakazu
President of NCC
Simultaneous Interpreter for International Conference
He won the Cultural Order Award (the award for cultural merit) in 2004."I always say it's so hard to learn English and conversational English, and ask 'Are you ready to make it all the way through?' Everyone is mistaken in thinking that learning how to speak English is like taking lessons in something or other. If you don't study like crazy, you can't learn English," said the President of NCC, Mr. Nagata.

NAGATA Hisakazu
President of NCC
Simultaneous Interpreter for International Conference
He won the Cultural Order Award (the award for cultural merit) in 2004.

Japanese people can't learn how to speak English, only by imitating native English speakers. Therefore, NCC adopts its original "TP Teaching Method", a combination of theoretical lessons by Japanese teachers and practical lessons with native English teachers.
One of the most remarkable characteristics of NCC is that it definitely promises to bring students' English ability up to their targeted level in six months after entrance.
The level is divided into 21 steps. At NCC, teachers calculate backward from the targeted level to design a personalized curriculum for each student.
"If you have been shown to be on level 20 (beginners) in a level check test at the time of entrance, we guarantee that you will reach level 14, where you can manage to live in the U.S. or England."
If you fall behind the curriculum, you can take supplementary lessons when you have no classes, or take after-class instruction for free. That's why you will never fail to achieve your goals.
Students' Voices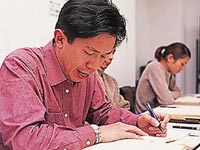 "Everyone in the class works hard, which stimulates me (to work harder). I study English for three hours every day, until English comes out of my mouth fluently. When I took the TOEIC exam to see how much my English had improved, I found my score had gone up from 500 to 800." (Office Worker)
"It is no easy task to prepare to keep up with such substantial lessons. When I attended class four times a week, I studied English for 12 hours a day. Even now that I have reduced my attendance to twice a week, I have to study for at least 6 hours. I aim to study abroad to get a MBA, and have no time to get sick of it." (Self-Employed Person)

Each lesson is supposed to be given for 90 minutes, but evening classes usually start at 8 and finish about 11:30. Every student stays and takes a lesson until the end of the class, worrying about whether they can catch their last train or not. I was overwhelmed by the great enthusiasm of this school's students and teachers.







































From "a daily conversation mastery course for beginners" to "various specialist-level achievement courses for advanced learners".
We definitely promise to bring students' ability up to their targeted level in six months after entrance, and provide uncompromising dedicated teaching.
Students can take the same course again for free, if they are not satisfied with what they have learned as a result of taking the course.
To make and confirm your reservation for your visit to our entrance counseling sessions (which include an explanation of teaching contents and method), and free trial lessons, please contact us by telephone, not through the Internet.
For other inquiries, please call us directly at 03-5330-9331. (after 2:00 p.m., except on Sundays and national holidays)
NCC Foreign Language Institute / YS Daiichi Bld. 15-4, Nishi-Shinjuku 7-chome, Shinjuku-ku, Tokyo, 160-0023, Japan